The name Elsagate is derived from bizarre videos featuring Elsa from the Disney cartoon Frozen and Spiderman indulging in despicable acts no child should ever see. Gore, violence, sexual fetishism, abuse and rape are the prevailing themes in such videos. The term "Elsagate" itself has also evolved and it is no longer used to describe just videos featuring the Frozen franchise character, it is instead used to describe any video, animated or not, targeted at children, that contains these disturbing messages.
Hundreds of these videos exist on YouTube, and some generate millions of views. One channel "Toys and Funny Kids Surprise Eggs" is one of the top 100 most watched YouTube accounts in the world – its videos have more than 5 billion views.
Its landing page features a photo of a cute toddler alongside official-looking pictures of Peppa Pig, Thomas the Tank Engine, the Cookie Monster, Mickey and Minnie Mouse and Elsa from Frozen.
But the videos on the channel have titles like "FROZEN ELSA HUGE SNOT", "NAKED HULK LOSES HIS PANTS" and "BLOODY ELSA: Frozen Elsa's Arm is Broken by Spiderman". They feature animated violence and graphic toilet humor.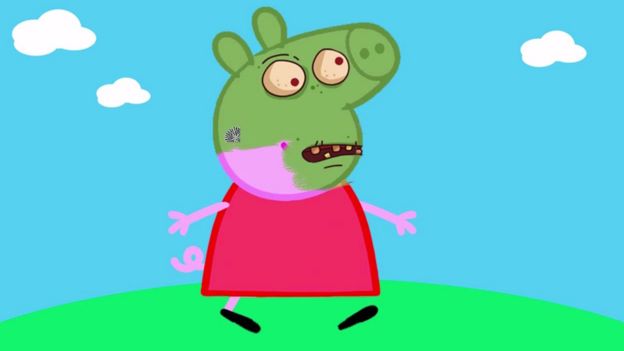 YouTube did not offer a spokesperson for interview, but in a statement said: "We take feedback very seriously. We appreciate people drawing problematic content to our attention, and make it easy for anyone to flag a video.
"Flagged videos are manually reviewed 24/7 and any videos that don't belong in the app are removed within hours. For parents who want a more restricted experience, we recommend that they turn off the Search feature in the app."
The company also suggested that parents use the YouTube Kids app, which is available for mobile phones and tablets, and turn on "restricted mode" which limits flagged content. It can be found at the bottom of any page on the YouTube site, but cautions that "no filter is 100% accurate".
And since Trending began investigating, several of the channels that we brought to the attention of YouTube have been removed – including the one containing the video of fake Peppa visiting the dentist.
The videos may not be coherent, but many proponents of the Elsagate theory claim this is an organized and orchestrated attempt to condition children into believing abuse is perfectly natural. Furthermore, they state these videos are normalizing pedophilia and different forms of violence, grooming children. Creating an entire generation of potential abusers and victims.
One can only hope that is not the case, but patterns keep emerging. Artist, writer, technologist and publisher, James Bridle, in his piece about Elsagate, published on Medium and quoted in the Guardian, had the following to say.
"Someone or something or some combination of people and things is using YouTube to systematically frighten, traumatize, and abuse children, automatically and at scale."
Solutions
Solutions to prevent kids from viewing those videos:
Dont let your children watch youtube unsupervised
Read the YT Parent Resources
Turn on Youtube's restricted mode howto
Report the offensive Youtube Channels as adult content works YT Guidelines
The YouTube Kids app filters out most – but not all – of the disturbing videos
 YouTube suggests turning on "restricted mode" which can be found at the bottom of YouTube pages:


• The NSPCC also has a series of guidelines about staying safe online, and there are more resources on the BBC Stay Safe site.

I would like to share some tips from Parenting.com on how to keep your child safe on internet:

1. Step into their cyber-world
"Parents have to get involved. Just as they know every detail of the playground around the corner  — the jungle gym, the swings  — they need to know their kids' online playground as well," says Tim Lordan, staff director of the Internet Education Foundation, a nonprofit group that produces the online safety guide GetNetWise. It may be hard to keep your eyes open after visiting what seems like the 100th website devoted to Barbie, but playing copilot to your child is the best way to make sure she gets a smooth ride. By the time she's 7, you won't need to be glued to her side, but you should be somewhere in the room or checking in frequently.

2. Set house rules
Decide how much time you're comfortable with your children being online and which sites they may go to. You might post a short list or even a signed contract (like the free ones at www.SafeKids.com) next to the computer. So there's no confusion, talk about the rules  — and the consequences for breaking them. "Our house rules say the kids are allowed half an hour of computer time on 'their days.' One child has Mondays and Wednesdays, and the other has Tuesdays and Thursdays. Then they get one hour each on the weekend," says Jamie Smith of Mount Pleasant, Michigan, mom of Hailey, 12, and Kody, 9. "They have certain sites they can visit without special permission. Any others have to be approved by me or my husband."

3. Teach them to protect their privacy
While they won't fully understand the consequences of revealing personal information online, you should still make sure your children know:
* never to give their name, phone number, e-mail address, password, postal address, school, or picture without your permission
* not to open e-mail from people they don't know
* not to respond to hurtful or disturbing messages
* not to get together with anyone they "meet" online.

More tips to follow

4. Know that location is key
Keep the computer in a central spot, where it's easy to monitor its use. "We have five computers in our house, but only two  — mine and the PC in the family room  — are hooked up to the Internet. That way, I can frequently check up on what they're looking at," says Cecilia M., a mom of three in Teaneck, New Jersey.

5. Be their go-to person
Instruct your child to come straight to you when she sees anything that makes her uncomfortable, and assure her that you won't overreact, blame her, or immediately rescind her online privileges.

6. Turn your ISP into your ally
Before buying a safety product, experts recommend that you work with what you've got, starting with your Internet service provider (ISP). America Online, MSN, SBC Yahoo!, EarthLink, and others have reliable, free parental controls that can limit children's access to websites and communication features (e-mail, instant messaging, chat) by age, content categories, time, and other choices.

7. Make your browser work double-time
If your ISP lacks that capability, you still have some safe-surfing options at hand on your browser (the program that enables you to view web pages). Internet Explorer has Content Advisor (under Tools/Internet Options/Content), which filters out language, nudity, sex, and violence on a 0 to 4 scale. Netscape and Safari (for Mac users) have parental controls like filtering as well. Using your browser won't get you the comprehensive results that a safety product or your ISP would yield, but it can be suitable for the times you're sitting next to your little one surfing the net.

8. Tune up your search engine
Your search engine can be pressed into service for free. (But be aware: A savvy child could switch the settings back.) Once you set restrictions, Google will block sites with explicit sexual material (Preferences/SafeSearch Filtering). AltaVista puts several types of offensive content off-limits with its Family Filter (Settings/Family Filter setup).

9. Stay in a kid-friendly zone
For beginners as young as 4, consider confining online exploration to web addresses that list child-safe sites on everything from TV, movies, music, and games to world history, science, and trivia. Some good choices:
* web directory Yahooligans
* answer supplier Ask Jeeves for Kids
* the American Library Association's Great Web Sites for Kids
* the U.S. government's "Dot Kids" domain .

10. Call on software for assistance

While no technology is fail-safe, it does add another layer of protection. "The key is to make sure you have something that reflects your values and is just technological help, as opposed to trying to take over your role as a parent," says Parry Aftab, executive director of WiredSafety.org, a nonprofit Internet safety and education organization with several websites. So make sure you can make changes to fit your family's needs.Though these six tools will cost you, most offer a free trial period, and all are champs at doing your bidding. Just ask yourself, what's your primary goal?

* Shutting out the smut (and other undesirables)
Best for parents who want maximum protection with minimal effort, CyberPatrol 6.2 deflects objectionable web content with a twofold filtering technique. It blocks sites on its comprehensive list of restricted web addresses, then does keyword pattern searches for offensive material on non-blacklisted sites that may have slipped through the cracks.
You decide: How much to customize. You can allow certain categories (Sex Education but not Adult/Sex, for instance); add your own blocked or allowed sites or keywords; and more.
What your child sees: Varies from a bold "Access Restricted" notice (with the CyberPatrol "To Surf & Protect" shield) to a discreet "This page cannot be displayed" message.
Cost: $40 for one year/$60 for two; Windows, www.cyberpatrol.com

* Keep the Internet under lock and key
ControlKey 2.0 is The Enforcer. No key means no Internet access. The small blue device (part of the company's SecuriKey product line) plugs into a USB port and also serves as a watchdog for you. Children can do homework-related research but not waste time IM'ing; they can open their own documents but not your desktop check register. Setup is a little tricky and time-consuming. But once installed and configured (according to what you want to control or protect), it's easy to use and a good choice for parents who want stronger restrictions or are dealing with kids who broke the rules. You'll just need to guard it like your car key. Register so the ControlKey "token" can be replaced ($45) if lost.
You decide: What to lock up: access to files you'd like to keep private? A particular computer game? Certain sites?
What your child sees: "Access Denied" message (when the computer is restricted) or "This page cannot be displayed" (Internet restricted).
Cost: $60; Windows, 800-986-6578 or www.controlkey.com

* A pristine site for young surfers
Instead of keeping out what's bad, Kidsnet keeps in what's good, and only that. Every website on its vast "white list" has been vetted and classified according to Internet Content Rating Association and Kidsnet standards. Home page Hazoo is well stocked with web offerings (even a Google search box), ranging from pbskids.org to hilaryduff.com.
You decide: What to exclude and include and how subtly to draw the distinction. What your child sees: "Ahoy mate!" A pirate or another cartoon appears on a "redirect" page, telling kids why they can't go to an off-limits site and offering two alternatives.Cost: $30/year; Windows, www.kidsnet.com

* Something to keep you safe online, too
Norton Internet Security 2006 provides everything: parental control over web content and Internet access, virus defense, spam blocking, privacy preservation, and firewall fortification. That makes it a good choice for families with general security concerns and less commitment to content-oriented parental controls (a small part of the protection package) and for those with older children plagued by spam and other system interlopers.
While setup takes a while  — you'll need to uninstall conflicting software, and it's best to back up your computer before you start  — it's easy to customize and manage all five programs included from a main "System Status" screen.
You decide: When to turn on parental controls; which of 31 content categories are blocked; whether to restrict programs that access the Internet; how high to set controls over sending private information.
What your child sees: Message that Norton "blocked access to this restricted site" and why.
Cost: $70/$90; Windows/Macintosh, www.symantec.com

* Knowing exactly what they've been up to online
When a child is using the computer, Spector 2.2 takes snapshots of what's onscreen at intervals and stores them in a hidden file to record all they do. You then view the file like a video (play, pause, fast-forward, rewind).
It's best for parents who have reason to believe a child is breaking the rules or is being victimized (or who want to keep a record, just in case). Just be aware that a program like this can erode trust if you use it to spy on kids without cause or on the sly.
You decide: Degree of sneakiness, between stealth mode and visible (a tiny red box in the system tray); whether to record everything or only activities involving Internet access; how often to capture images and when to delete them.
What your child sees: In stealth mode, the program is invisible.
Cost: $100; Windows/Macintosh, 888-598-2788 or www.spectorsoft.com